Wap Web Site Design [wireless]
Have Your Website Designed For Mobile Devices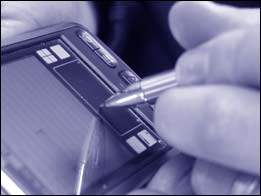 We have facilities to design a wap website specifically for your mobile phone. This may be a wap-only website or just an added feature of your main site so people can visit your website on the move. ie. http://www.your-website/wap. Almost all new mobile phones now come wap and GPRS enabled. We are sure wap, and viewing the internet through mobile devices is going to become the future of mobile phones and is going to change the way we access the net.
When wap was released a few years back it didn't quite have the impact many people hoped. In reality "surfing the internet through your phone" was just slow, text-based sites, on a tiny screen which normally costs the price of the voice call to use. Things are already advancing, with GPRS the prices based on the length connected are a thing of the past. Most mobiles now have full colour screens and higher resolutions than before. This is improving, and maybe soon we will see people surfing the net on the phones as common as talking on your phone.
As more people are now accessing the Internet through phones and PDA's, some informative sites can really benefit from having a wapsite. We have had vast experience in creating wap websites, and we will also be able to host it for you as well.
If you are interested in this service please contact us about your wap requirements.

Web Design - View information about our standard web design packages, we offer both html and wml coding.